Why Do We Have Hours of Service Rules?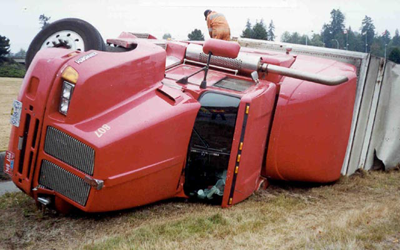 Drivers need to be well rested. The rules go beyond just preventing drivers from falling asleep at the wheel. Not enough rest impacts drivers' cognitive skills, motor skills, and response time.

It's the law. The Hours of Service (HOS) rules are Motor Vehicle Act Regulations. You are obligated to understand the rules yourself, and teach your drivers the rules. You must monitor the driver logs/time records to make sure they are accurately completed, and in compliance with the hours of service requirements.
Remember: if you do not ensure that your drivers obey the hours of service rules:
You are putting your drivers' lives at risk.
You are endangering the lives of others on the road.
You are breaking the law!
WARNING: If your driver gets in an accident, and fatigue is a cause, you as the carrier could face criminal and civil law suits!
Case Study: Multiple National Safety Code Violations Found in Accident with Multiple Fatalities
In 2008, an exhausted driver struck a tractor-trailer on Highway 8 in New Brunswick, killing seven high school basketball players and a local teacher.
The team was on a return trip from a night game in Moncton. The driver had been nearly 16 hours on duty at the time of the accident. From 9:00 pm until midnight, the weather had deteriorated, with worsening road conditions. The driver overcorrected to the left when the van hit the right shoulder of the road, causing the van to move into the path of the tractor-trailer.

The van, classified as a commercial vehicle, had worn tires and faulty brakes. A log had not been filled out for the vehicle in more than nine months, and even then, it had been done improperly.