What are Your Obligations for Vehicle Maintenance?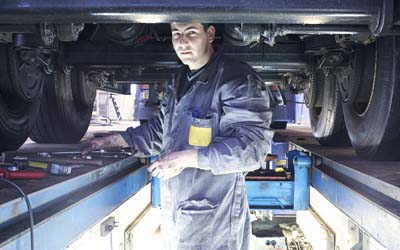 Part of a complete Safety Plan is looking after your fleet. The National Safety Code requires that you maintain all vehicles operating under your NSC Safety Certificate. Whether you use owner-operators, or you own, rent, or lease your company's trucks, you need to keep them in good working order. You are also responsible for any vehicles towed as part of your carrier business.
To meet your obligations, you must set up a maintenance and inspection program and record it on a schedule. This can be as simple as a written document that sets out the next time or distance when a vehicle requires its next inspection or maintenance. These intervals are commonly linked. For example, an inspection could be due at 30 000 km or three months, whichever occurs first.
You also need to keep records of all the maintenance done on vehicles in your fleet.
Tip: Vehicle ID
You are required under the Motor Vehicle Act regulations to properly identify your vehicles. Make sure that each of the vehicles operating for you displays your NSC Safety Certificate number on the vehicle registration. You must also display the name of the certificate holder on both sides of your vehicles.