Vehicle Inspections
We want only the safest and most roadworthy highway vehicles operating on British Columbia's highways. That means that every day your trucks head out onto the road, they should be checked to make sure they're safe. We call these daily checks trip inspections, and you'll learn all about them in this module.
The Commercial Vehicle Inspection Program CVIP runs mandatory safety inspections. CVIP will inspect your vehicles either once every 6 months or once a year, depending on the type and weight of your vehicle. Parts can differ, too. For example, if you operate a truck-trailer, the trailer's inspection is annual; the truck portion of it is semi-annual.
CVIP inspections don't replace the ongoing preventive maintenance that you do as a carrier.

Don't let Inspections and Maintenance Slip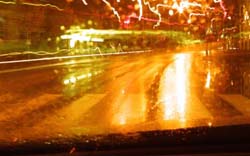 Not too long ago, a commercial truck hit and killed a pedestrian in an intersection. It was night, and the roads were wet. When the truck was inspected after the accident, inspectors found the brakes were out of alignment, along with a series of maintenance issues. No one individual issue was solely responsible for the accident, but all together, the poor maintenance meant the truck wasn't operating at its best. Regular inspection and maintenance doesn't just save money… it saves lives.